Holiday Blockbuster Sales Event | Find Low Price Chrysler & Cheap Used Cars
'Twas a night in the dealership, all pleasant and nice. Because every vehicle has been marked down with a special clearance price.
It's the Holiday Blockbuster Sales Event going on now at Tri-Cities Dodge! Right now, get zero down payment, zero first month's payment, zero security deposit, and zero due at signing!
Special year-end pricing
.
Zero, Zero, Zero, Zero
. That's how Tri-Cities Dodge does its epic Holiday Blockbuster Sales Event!
Trade In Value Offer Kingsport TN | Get A TV or iPad Mini With New Or Used Car Purchase Until Dec 24, 2014

Trade in your current car, truck, SUV or van today at Tri-Cities Dodge and get a Free TV or iPad Mini. Residents in Kingsport can take advantage of this offer through December 24. Hurry in today and take advantage of up to 125% of Book Value for your trade and low pricing on a new Chrysler, or a clean high quality used car.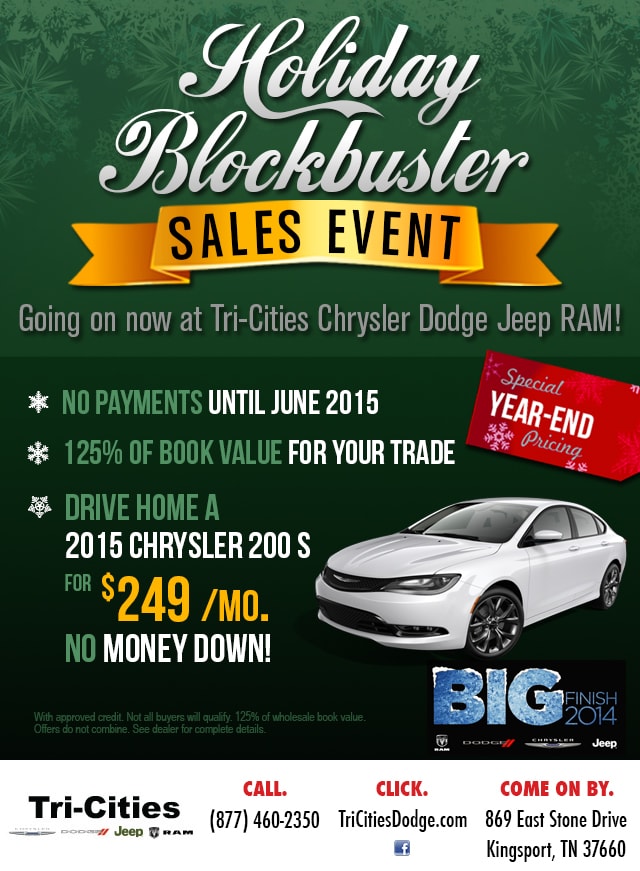 Get Your Bonus Offer
Hours
Monday

9:00am-8:00pm

Tuesday

9:00am-8:00pm

Wednesday

9:00am-8:00pm

Thursday

9:00am-8:00pm

Friday

9:00am-8:00pm

Saturday

9:00am-8:00pm

Sunday

12:00pm-6:00pm